When new students are added to the system and appropriate class, emails to welcome the student and to request parental consent are sent by the user admin from the system. These emails are usually sent to the Parent (Secondary) email address only unless the school/parish has its own email system. Below is an example of the welcome email which contains the user login information.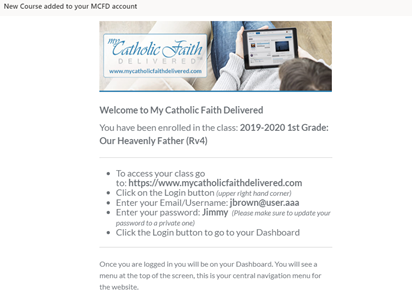 To send or resend a Welcome Email from Seat Management:
1.

Select the class where one or more students have been added.

3.

Select the user or users. You can use the

All

button to select all the users in the list.

5.

A message confirming that the number of emails matching the number of selected users will be shown. Click

Ok

to send the emails.

Note that the first time the Welcome email is sent using these procedures, a second email is sent to request parental consent will also be sent. See the article regarding parental consent for more information on that.